EHSQ
Operating Policy
Masor Works Oy offers installation and maintenance services to its customers.
The goal of Masor Works Oy is to develop our activities based on our values so that we are capable of serving the company's customers with the help of motivated and well-being personnel while maintaining economic profitability.
All employees are personally responsible for compliance with our objectives and the quality of the company's activity and continuous development thereof. We expect the same from our co-operation partners and suppliers.
In all of our activities, we follow laws, directives, official regulations, and applicable standards. We consider the needs and expectations of our customers, personnel, society, and the environment.
We develop our activity so as to meet the requirements of the constantly changing business environment.
Nokia 15th of January 2014
Lauri Mäkelä
Chairman of the Management Board
Masor Works Oy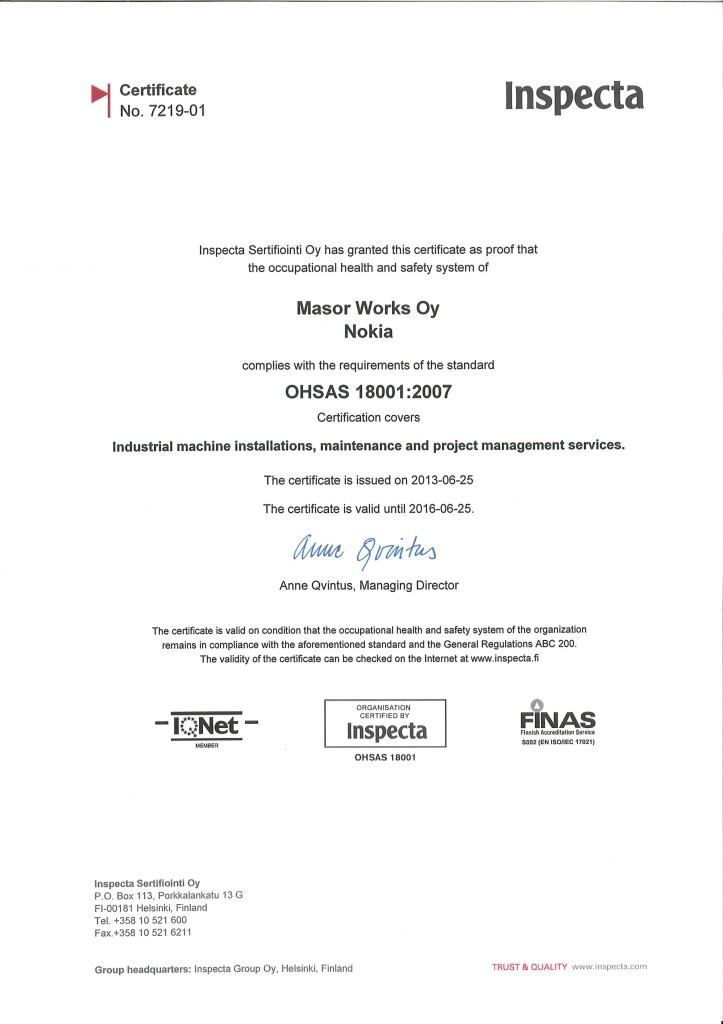 OHSAS Policy
Masor Works Oy acknowledges the responsibility for the safety of working environment and well-being of our customers, employees, and co-operation partners. Masor Works Oy is committed to prevention of health disorders and injuries. The company's operation is arranged so that safety risks are minimised. In our activity, we follow the requirements of the law and competent officials.
Occupational safety and well-being are subject to constant monitoring and continuous development. Risk analyses, internal audits and inspections are carried out regularly and repair measures established in accordance with the risk levels.
Awareness is maintained through regular training and work site-specific instruction in such a manner that each employee is personally responsible for consideration of safety aspects and development of well-being at work. Masor Works Oy notifies its staff systematically about occupational health and safety matters and hears out the employees' needs for development.
The occupational health and safety policy is reviewed annually and the executive group of Masor Works Oy is responsible for updating thereof.
Nokia 15th of January 2014
Lauri Mäkelä
Chairman of the Management Board
Masor Works Oy